Tilt and Turn Window
Flex tilt and turn windows offer a wide choice of sashes, system styles and bead finishes to provide optimum appearance, weather performance, ease of operation. The tilt and turn windows has gained popularity in both the commercial and domestic sectors.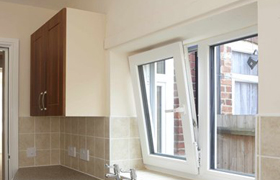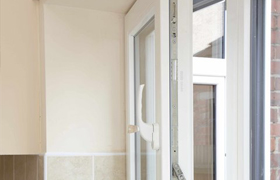 Tilt and turn uPVC windows offer a simple, contemporary and stylish solution to suit modern properties, together with the benefits of noise reduction, low maintenance, safety and security and energy efficiency. Our Tilt and turn windows can achieve an A rating, the highest possible window energy rating (A rated windows)
Versatility. Practicality.
Closed Position

The window closes easily with one turn of the handle
engaging all the locks (up to 8 depending on the
size of the window) at the same time.
This position creates seal that keeps out sound,
heat or cold. The window can be deadlocked
in this position, using a key.




Tilted Position

The window can be tilted inwards for optimal,
draft-free ventilation. This position is
restricted to no more than 150mm and is
secured to prevent intruders getting in,
leaving you and your property safely protected.
The tilt position of a Tilt & Turn window
is best for ventilation. The outside air is
channeled through the sides of the window, while h
otter air that rises escapes through the top.

Open Position

The turn position allows the window to be opened
fully, depending on the position of the window it
could be up to 180 degrees. Restrictors are
available that allow you to restrict just how
much your window will open depending on your
needs. In this position the window can be
easily cleaned from the inside of your home.