REHAU
With its unique variety of product ranges, in Europe REHAU is a leading supplier of polymer-based solutions for the windows and curtain walling technology, building technology and civil engineering & infrastructure sectors.
Windows and doors made of REHAU profiles meet the highest standards of quality and design to give you peace of mind. REHAU has more than half a century of experience in the field of uPVC Window Profile. DIN ISO 9001 Certification and those of multiple international institutes according to highest standards go without saying.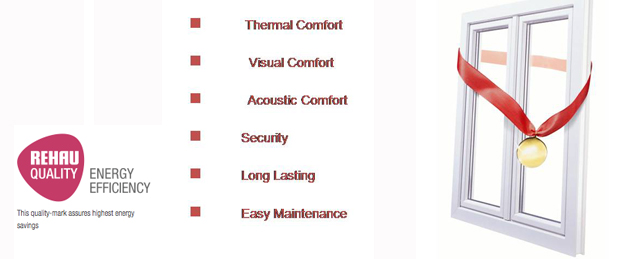 REHAU EURO-DESIGN 60

With REHAU Euro-Design 60, customers have a sleek sliding window or door system. Because this system has a profile depth of 60 mm, and can therefore be mixed and matched for side-by-side installation to our REHAU Euro-Design Slide to suit the users' needs or design considerations. This gives REHAU window systems an attractive selling point with homeowners and architects alike.