EFFECTIVE DUST PROOFING
Flexwindows and doors will be dust proof - Big benefit of having uPVC windows and doors in your home is that their dust proofing qualities help to maintain a clean environment inside your home. If you home is situated plains dust stoms could be a problem, then UPVC windows and doors will the help considerably. When installed in your home, you will notice that uPVC windows and doors tend to fit better against the frame of the windows and doors, which will help, stop dust coming in.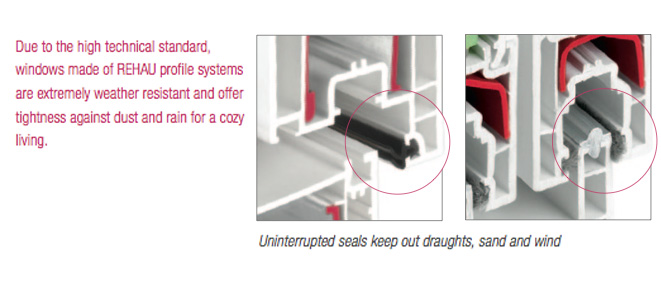 INGENIOUS DESIGN KEEPING YOUR HOME CLEAN
Especially in regions with extreme climatic conditions, the air is often filled with dust and sand. Therefore windows with a high level of air and water tightness are crucial to comfortable living. Due to the high technical standard, windows made of REHAU profile systems are extremely weather resistant and offer tightness against dust and rain for a cozy living.
The sealing in Flexwindow Systems is calibrated to achieve excellent air tightness of less than 0.1 m3/hr/m2 at 10 Pa (tested in accordance with GB/T7107-2002). This effectively stops dust drifting in from the outside, which drastically reduces the time you'll need for cleaning your home.